RamonaFan was a Zimmer Twins user who was a big fan of the Ramona books. She was close to many users of the Zimmer Twins website from her time there in 2010. In 2010, what is now labeled as the "RamonaFan incident" took place. RamonaFan made movies stating that her throat hurt, and asked people to make movies to her about how to make it stop. Many users contributed and suggested ways to make her feel better, and titled them "Throat RamonaFan". A few days later, her family members were said to have come on to her account and told people that she had died of throat cancer. RamonaFan's death still remains a mystery, though many people speculate she faked her death because she wanted to be remembered on the site when she left.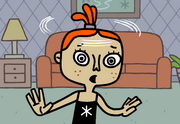 Trivia
Her other accounts on the website were Skippy1 and Emmy9.
She only made 14 movies on her main account.
Some rumors circulated saying that LastPower is RamonaFan, but this theory is a topic for debate. LastPower had an account on zimmertwins.ca, but RamonaFan only mentioned using jumeauxzimmer.ca.
Some rumors circulated saying that Imastamper is RamonaFan, but this theory can be disproved because Imastamper joined in the fall of 2009, and RamonaFan said she didn't discover the site until December of that year. On top of that, it would be silly for one person to have two different accounts with VIP memberships on them at the same time, especially when their parents are paying for the membership.